Track takes on Siebert-Finch
Girls place 2nd, boys 12th at annual meet
April 28, 2023
On April 15, Summit hosted the annual Siebert-Finch Track meet. 
"
Outcomes have an added obstacle when you host as well as compete, but I am always proud of our efforts on both aspects, hosting and competing."
— Boys track coach Rolland Garrison
In previous years, this meet was called the Coery Siebert meet. When Summit first opened, the track team was denied entry in most invitational meets, which are meets that consist of 8 or more schools. In result of this, in 2004 Summit created their own invitational. 
That first invitational would be known as the "Summit Invitational" until alumnus Corey Siebert proceeded to lead the organization of the event; just as he had done so on community efforts track had sponsored. These efforts led to the annual invitation to later be named after Siebert. This year, Summit has changed the name to the Siebert-Finch meet, providing an opportunity to honor another student, alumna Lakeshia Finch, who additionally inspired the making of the invitational. Head coach Rolland Garrison said he is proud of and happy for his athletes coming out of the Siebert-Finch meet. 
Within the boys division, junior Ryan Grimes took 11th for the 200 meter with a time of 24.35 and 12th for the 100 meter with a time of 12.30. Grimes said he went in hoping to make his teammates and coaches proud. 
"Going into the meet I felt pretty anxious. I knew how much this meet means to the program and I wanted to go in and do the best I could. I tried to stay positive and focus on things I could control like my race plan," Grimes said. 
As of his 2023 season, he is planning on building his stamina to increase his personal records.
"For the rest of the season I'll continue to go to the gym and work on more endurance, speed and agility exercises to make sure I'm in the best shape I can be for the post season. Which will also help my prs (personal records) to prepare myself for a possible state run." Grimes said.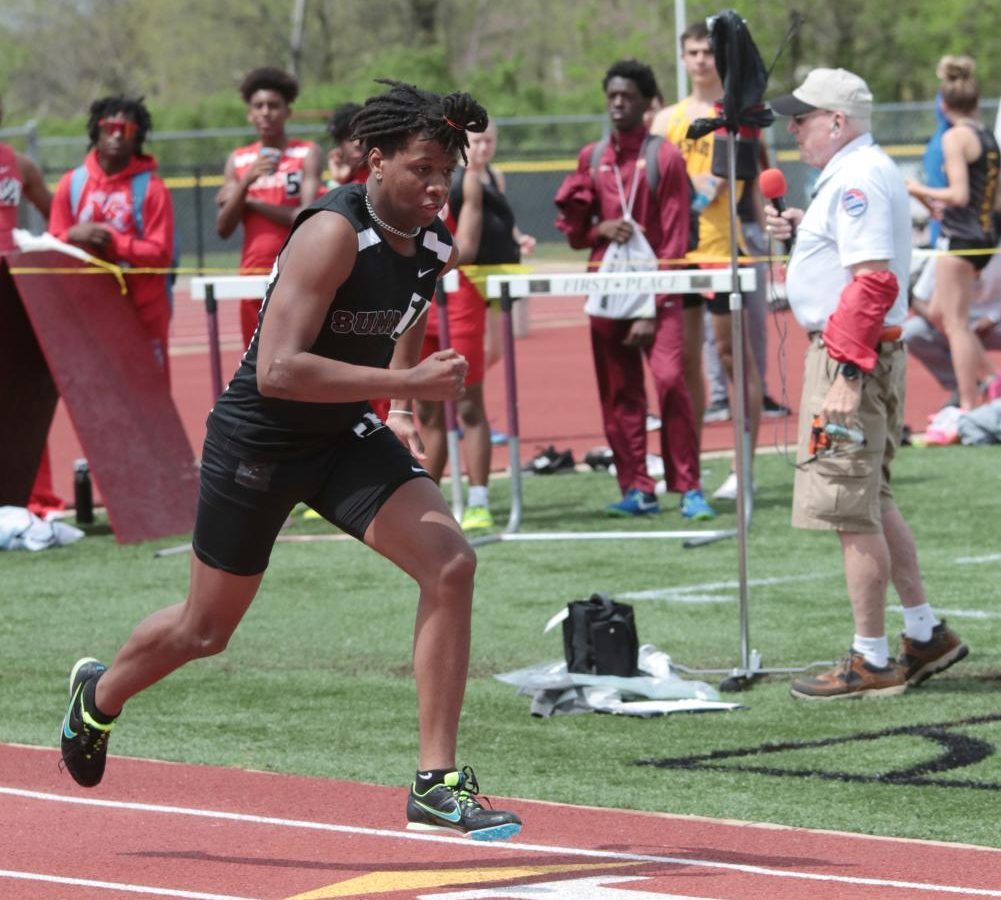 The girls track team placed second at the meet. Junior Barrett Jackson said this meet is preparing the team in many ways, including finding new 4×400 relay racers. 
"A lot of the girls did the 400 that day. We are trying to find girls to do our 4×400 because [junior] Christelle [Barafundi] and I are not doing relays this year. It's like a tryout for all the relays. I think there were a lot of good open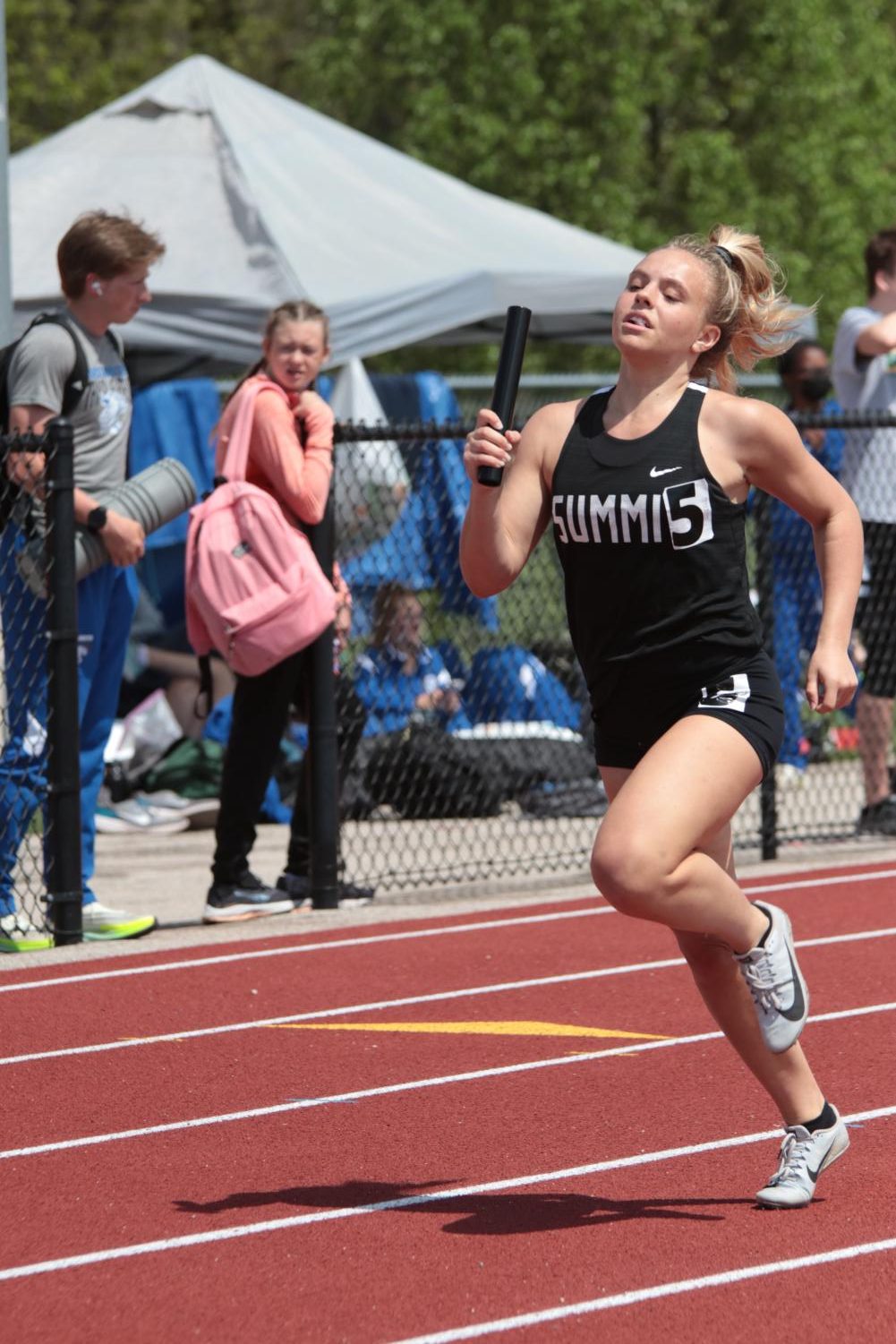 400 times so that will impact the upcoming 4×400 relays," Jackson said. 
Jackson ran the 400, 200, and long jump. She placed fourth overall in the varsity girls 400 meter dash, with a time of 1:00.07 . She said moving forward, she plans to work on getting around the turns faster and picking up more speed.
"I need to work on coming out faster on the curve and building my speed up," Jackson said.
Sophomore Reese Martin placed second in the 1600 meter run with a time of 5:27.89, and was a part of a 4×800 relay that placed first with a time of 9:44.95. Martin ran the relay alongside senior Ella Thier, junior Mia Brown, and sophomore Cate Rossomanno. Martin said these were some of her personal bests and that she is overall pleased with how her events turned out. 
"I was really happy with the outcome because I was able to run personal bests in all my events," Martin said. 
With the rain cutting into the event, races were pushed back. Martin said the rain put a pause in her agenda, making her and Rossomanno's race delayed. 
" The rain pushed back the 1600 which caused me and my teammate to warm up too early for it which was stressful but we still were able to run good," Martin said. 
In the 4×800, they are working on getting to the school record of 9:34. At the meet, the girls had a final time of 9:44.95.
"In the 4×8 we all dropped our times a lot which allowed us to lower our overall time by 15 seconds and get closer to the school record," Martin said. 
The girls team also has a number of medalists at the meet. Rossomanno placed first in the 1600 with a time of 5:27.18 and second in the 800 with a time of 2:29.25.