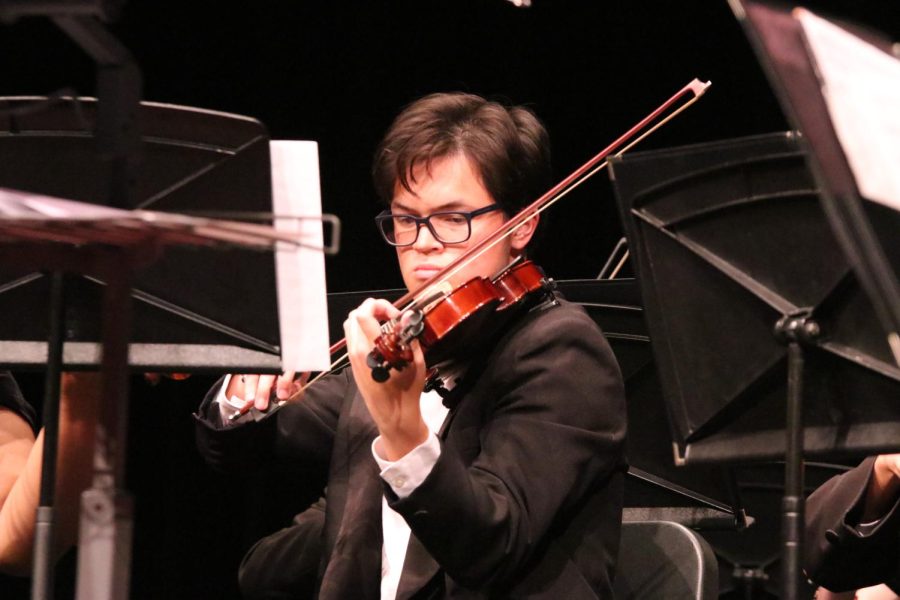 Orchestra receives high ratings across the board
As the school year came to a close, the orchestra program achieved high marks.
Orchestra teacher John Mazar said that the orchestra has accomplished many things this year such as gaining high ratings and places at competitions.
"This year received the highest rating we could at MSSHA large group festival, we won our competition in Nashville, and many kids performed well at solo ensemble," Mazar said.
Senior G Schmiedeke said this year was different from their past years because the orchestra was infiltrated with many talented underclassmen to fill the shoes of past graduates.
"We had a lot more new people this year than in the past! We have had so many seniors graduate in the past few years and there were so many students that came up to Symphonic this year either as freshmen or coming from Concert/Chamber Orchestra. There are just so many underclassmen in all the orchestra classes, it is insane! We normally have a pretty good split between grade levels but the excitement from the underclassmen and the sheer amount of them is unmatched," Schmiedeke said.
Schmiedeke said they made a commitment to practice for hours inside and outside of school to ensure they were comfortable with the music in not only symphonic orchestra but also chamber.
"I practice like crazy! I play in both orchestras, so there was a lot of music that I had to have ready. I spent several hours a day practicing up until January, and then because of an injury I went to about 30 min-1 hour of practice a day outside of school. We also have rehearsals in our class, along with sectionals," Schmiedeke said.
Senior Jarom Robeck utilized time in class to learn and become comfortable with the music by staying on top of his work and engaging in class.
"I personally prepared for all of our competitions/performances by staying on top of playing tests and being focused on and invested in what we were doing in class; the nature of orchestra class means that, as long as you participate in a worthwhile manner during rehearsal, you should be more than prepared for all of our performances," Robeck said.
Schmiedeke said their favorite competition this year was in Nashville because they got to perform a solo in the piece and the orchestra performed extremely well as a group obtaining the title of best orchestra overall.
"The competition we did in Nashville was by far our best competition this year! I got to play one of the violin solos in the Bach Double along with Mira Iyer, and it was so impossibly fun to perform such a difficult song with such a fantastic musician. The entire orchestra program played the accompaniment part to the Bach Double, along with another piece called Brevard Sketches, and we ended up not only winning first in our competition class but also winning best orchestra overall. It was rewarding to get the recognition and to get to play with such a fantastic group," Schmiedeke said.
Robeck said the orchestra was so successful this year because they were connected by their love of the music and had the goal of moving the audience by music.
"Everyone is one big family, and we all love the activity enough to put some heart and soul into it. It's not just a matter of producing sound for an audience to hear, it's a matter of making music for the audience to love and connect with, and I feel like we've succeeded in doing that a lot over the years," Robeck said.