Falcon football returns
Coming off the best season in the school's history, the boys football team is making adjustments with hopes of replicating last year's success.
As last year's team was primarily seniors, there are now gaps in the roster. Head football coach Eric Stewart said that it is taking time for the team to fill those spots, but they are doing a great job filling them.
"We're younger this year, we had a lot of seniors this year that were replaced by younger guys, and so that's a big difference," Stewart said. "This [year's] group has taken a little bit longer to develop leadership within the core. They are doing that very well though."
Due to their success last season, they have a more competitive schedule this fall. Junior Sam Sutter says that the players in the class of 2024 are becoming leaders on the field, as they are replacing the alumni.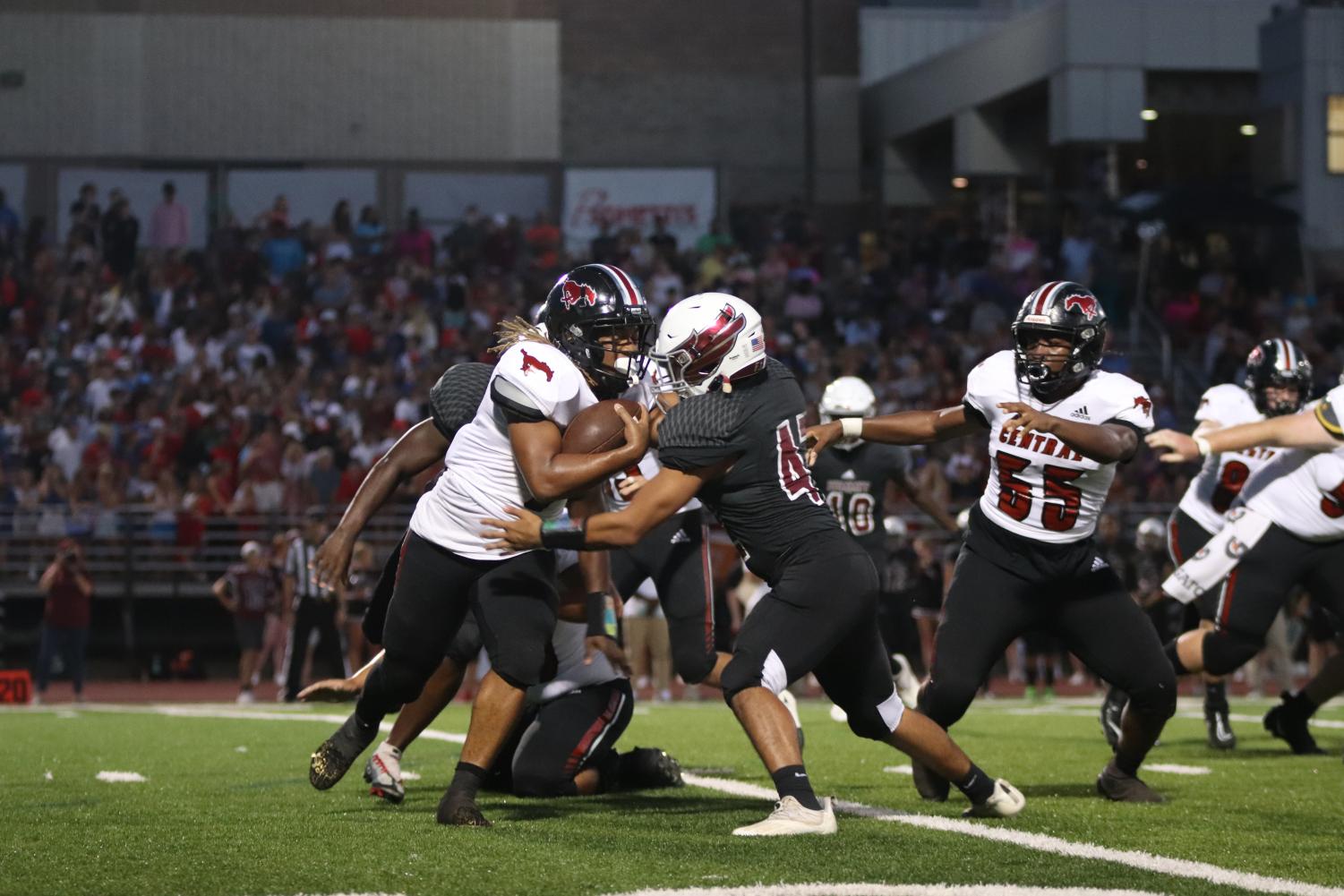 "We played easier competition last year, but this year we are facing more challenges [in terms of winning games]," Sutter said. "Last year our defense was better than our offense. But this year, I think that our offense is better than our defense because last year we were a very senior-heavy team. Now, we rely on the class of 2024, as most of the kids [in the] class of 2024 are starting."
This season is especially different because the team welcomed junior Grant Gibson, who transferred to the district last year. Gibson is starting as quarterback this season. He said that he believes that the team is very supportive of one another, causing the season to be good.
"I'm expecting to be super successful with how hard everyone is working, [and] I think everything is working pretty well," Gibson said.
Stewart said that he believes the team will be successful once they pin-point their strengths and weaknesses down. He said this is a challenge because the season is just starting, so once the team narrows down everything, hopefully leading the Falcons to a successful regular season and off-season.
"We've got some guys that are replacing some guys [on both offense and defense]. I don't know if we were tested the first week so it's hard for me to tell yet where our strength is," Stewart said. "Once they start playing for each other, it starts clicking very well. The other thing is that we have a harder schedule than we did last year, so we're going to be tested a little bit more than last year, which will be exciting and I think that will do a lot to up our level and our game."
As the season is starting, the Falcons defeated the Webster Groves Statesmen; 61-0, starting the season off strong. Into the second week, the Mustangs defeated the Falcons, despite their efforts; 14-2. Positively, in the third week of the season, the Falcons beat the Parkway Central Colts 50-14.