Not horsing around
Senior adopts 2 horses, works at stable
At a young age senior Maddie Young was introduced to horseback riding after seeing her grandfather work with horses.
"I started riding when I was 7 years old and my grandpa inspired me. He was always around horses and worked with them, so I was just around horses a lot and I was really interested at a young age," Young said.
She currently has two horses, Stormy and Blair, who she takes care of. She had her horse Stormy for three years and Blair for one. She keeps her horses at the barn she works at every day after school and pays for their stay at the barn by working there in exchange. She said being able to take care of the horses is what she loves about her job. She also said she just enjoys spending time with the horses every day.
"I really love the responsibility of having to take care of the horses since some of the owners can't come out every day. I think spending time with them daily is just really fun for me," Young said.
Previously, Young kept her horses at a different barn, but because of circumstances, she was forced to leave. She said the situation at that barn got bad which is why she switched barns.
"I used to keep my horse at a different barn, but we had to leave urgently because the situation got worse and that's why I keep them at," Young said.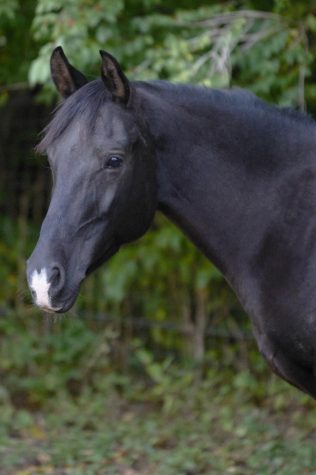 At the previous barn, she didn't work for them as she does for her current job and she said she used to only clean and take care of her own horse, unlike her job right now.
"I used to clean stalls, but it was only for my horse as opposed to cleaning them all. That was really different," Young said.
At Young's current barn it is smaller which makes connecting with the other people who come easier but, harder for veterinarians to come if there is an emergency.
"Since it's a small barn it's easier to know all the horses and people. I also have the arena all to myself which is nice, but a downside to being at a small barn is the fact it's tough for vets to get out there, and especially if there are emergencies," Young said.
Young said that emergency situations are the most stressful when dealing with horses. She said that in St. Louis, flooding is a common thing that impacts the horses and the barns they stay at.
"Trying to figure out what to do in emergency situations is stressful, like flooding, especially since in Saint Louis that's a big thing for barns that can impact us a lot," Young said.
Young spends about every day with horses, but she said she isn't looking to do horse riding in the future. She said she thinks she will still have horses to take care of for fun but doesn't want it to be a job for her.
"I don't want horses to be my life or a job, but I think I'll continue to have them for fun and as a hobby," Young said.
Young said she thinks horse riding is a beneficial hobby, but doesn't encourage anyone who isn't willing to put in a lot of time and effort to look into it. She said the connection is what's beneficial and having the opportunity to work with an animal as a team is fun.
"I find [horse riding] beneficial, but if you aren't willing to put in the time and effort then it's probably not something for you. I think it's really fun to have a connection with an animal, you have to be a team together and that's beneficial," Young said.
Her biggest motivation is her horses. She said the reliance they have on her keeps her determined because her job isn't only a job for her. She said she enjoys it and that's what she's most thankful for.
"I'm really grateful my job is not only a job for me and knowing they rely on me and if I'm not there they won't have anyone keeps me motivated," Young said.