026 army: how it began
Looking out at athletic events, students can see screaming fans among a sea of orange. The color has become
synonymous with school spirit and pride, but how did the fanbase originate? And why is orange its defining color?
Currently, the 026 army is the school's fanbase, as seen on social media, but it wasn't always the biggest supporting group on campus. In the early days of Summit, according to soccer coach Thomas Wade, there was another group known as the Falcon Fanatic. This group only supported the football and basketball teams, excluding the other 27 plus teams.
"It started because we had a fan group here called Falcon Fanatics, but they only supported football and basketball. So we tried to think of a way to get kids to come support soccer. We came up with the idea to create a supporters group," Wade said.
Instead of choosing to make the fans' shirts a coordinating color, Wade said he modeled the choice after professional soccer clubs.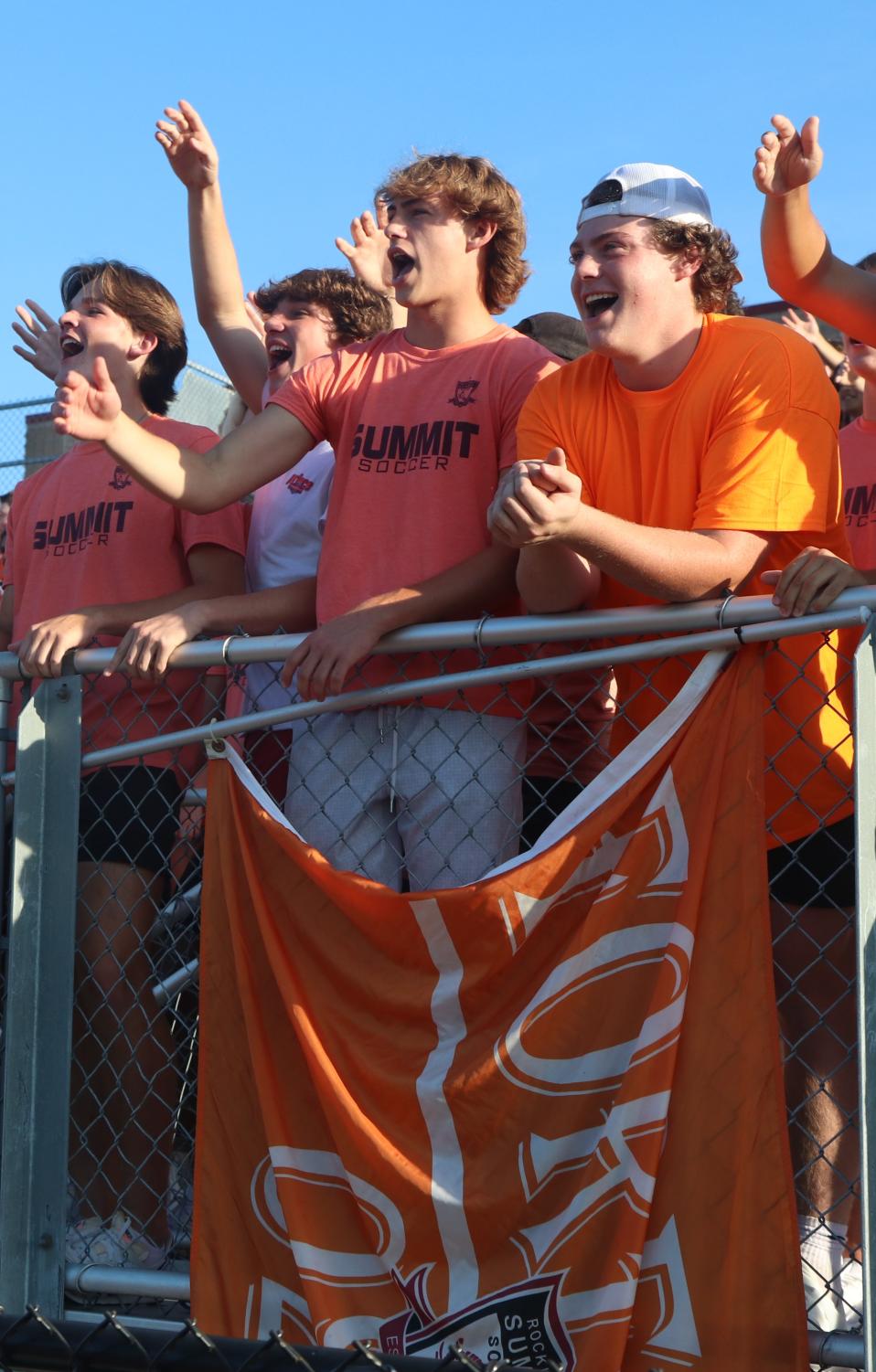 "The reason we have an alternate color is [because] that's common in soccer. You see clubs' all of the time have alternate jersey [colors]. Manchester United's colors are red and white, but they'll come out with neon yellow kits or
a pink kit. All the big clubs have this alternate color," Wade said. "Since we are the 026 army, we were going to do camo as our alternate color, but the shirts would have cost $15 a piece. We wanted to sell shirts for a lot cheaper, and we found that we could get safety orange for $6 a shirt. So we picked orange and it look's (in our opinion) really good with the maroon. [Similar] to Virginia Tech or AC Roma."
The current name originated from Fenton itself, it is derived from the zip code.
The original name was going to be the Hawkins Road Hooligans, our [athletic director] at the time, Mr. Zell said no hooligans at [or in] the school. Which is probably a good idea. So we went back to the drawing board and thought of something that kind-of unites all of us together, and we came across the 026 Army because of the 63026 zip code. And it started from there."
Since 2010, the 026 Army has grown tremendously. Currently, there is an instagram account promoting school spirit, it is called 026armygenerals. This account plans themes for the student sections for multiple different sports.
Senior Brayden Timm, one of the two 026 Army Generals, says that being obnoxious and loud at sporting events isn't as embarrassing as some may think it is. He says that it's vital for us to display school spirit at all sporting events, for every team at Summit.
"Trying to push the motive that school spirit isn't embarrassing. I think freshman and sophomores think it's dumb to follow themes, be loud at games, and follow chants so they won't do it because they feel like they will be judged by their other classmates. If I can show them that I'm loud and crazy around my class I hope they'll start being loud and crazy with their class," Timm said.
Senior Kyle Lavigne, the other 026 Army General, says that he's proud that he is a part of something so special. He also said that he is very appreciative that our student section has so much school spirit.
"It's an honor and a privilege. We have such a great student section here, and there's a lot of school spirit here at Summit," Lavigne said. "[To be a general], it means to be a leader, to be an example here to make sure that everyone is hyped up and excited for the games. There's no place I'd rather be than Summit."