Play-ception in Noises Off
Falcons feature a behind-the-scenes perspective of a play
Taking to the stage, the Falcon Players performed their winter play Noises Off on Dec. 1-3.
Noises Off offers a unique perspective: a behind the scenes look at the intricacies of assembling a play. The performance is play within a play, and features the cast at three different stages putting on their play Nothing On. The first act opens with the actors rehearsing during a tech rehearsal the night before the first performance. The cast misses cues, misplaces props, and forgets lines, demonstrating how utterly hopeless they are. Forgetful housekeeper Dotty Otley (freshman Mary Donavan) opens the play by rambling on about sardines. Hotheaded director Lloyd Dallas (freshman Adam Kovarik) berates his cast from the audience, a strong strategy that makes the play feel much more immersive. Through multiple screaming fits, Kovarik does an excellent job of portraying the sarcastic, bitter director. There is a love triangle between Lloyd, stage manager Poppy Norton-Taylor (junior Courtney Lampen) and up-and-coming actress Brooke Ashton (sophomore Aliza Carlson), which kept viewers guessing and provided multiple plot twists. Carlson was phenomenal as Brooke, and did a great job portraying the young, slightly naive character, easily garnering the audience's sympathy. Brooke is accompanied by Garry Lejeune (freshman  Jackson Schertzer), and the two work well together, creating a comedic dynamic that carries the audience through the play. Schertzer's expressiveness, specifically, often completes many of the jokes and scenes. Furthermore, Belinda Blair (senior Kaitlyn Chapman) and Freddie Fellowes (sophomore Michael Stimpson) also work together on scenes, as their characters within the play are married. Chapman was excellent both as Belinda and her character within the play, providing great energy and constantly keeping the audience engaged.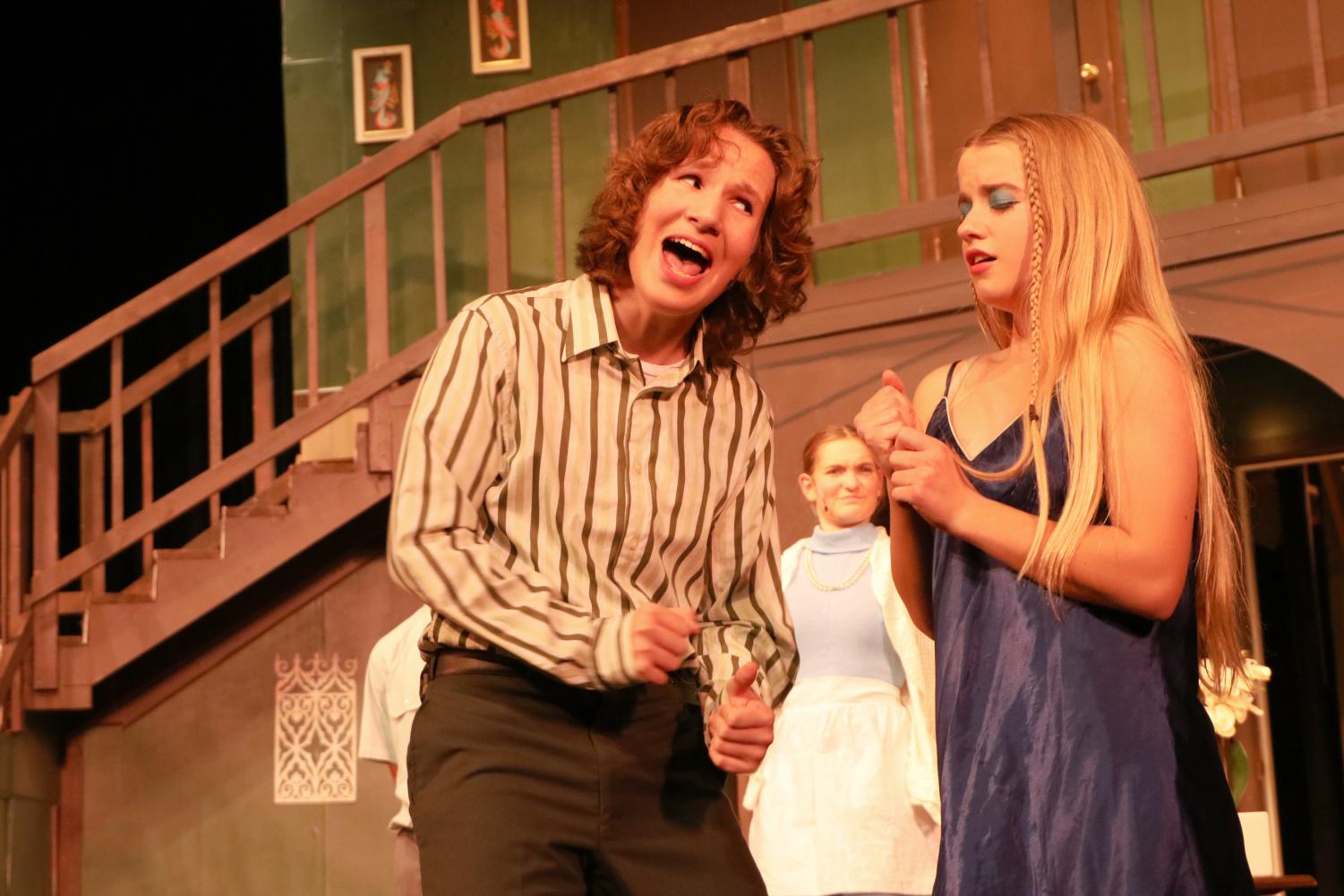 Act two takes place a month after the first, and demonstrates the behind-the-scenes aspect of a matinée performance. The set is flipped: audience members now see opposite the side of the set featured during the first half. Then, the same play that took place in the first half is repeated, but viewers instead receive the backstage perspective. The chaos was interesting, especially as a large portion of this act was done without dialogue, as the play was continuing behind the set. The characters acted out their rage without dialogue which included fights over an axe, a bottle of alcohol, and a cactus. Belinda works to keep the play together and actors united, which proves difficult considering the disappearance of numerous characters and Brooke's insistence on abandoning the play entirely.
Act three takes place toward the end of the play's run, where everything crumbles even further. The cast is forced to improvise, and certain tensions are highlighted for comedic effect. Despite the fact each act is the same one act of Nothing On repeated multiple times, it never feels boring. Each act provides different scenarios and dynamics, and the cast works together to make each act unique.