WALKOFF!
Falcons win 3-1 over Rams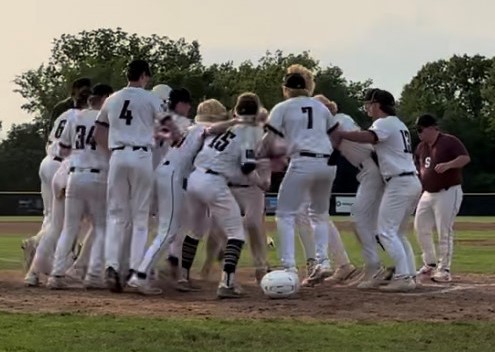 Down to his final strike, in the opening round of Districts, senior Zach Liggett blasted a walk-off home run winning 3-1 against the Ladue Rams in only his second hit of the season.
"At first I thought it was just gonna be a fly out to center field, and then I saw the center fielder keep running backwards and then I saw the ball go over the fence and I was just like 'wow I just won the game' and I just turned
around and screamed at the bench. Then the whole bench ran on the field and it was an exciting moment," Liggett said.
Going into the game, Liggett said he felt that it would be a battle considering the Rams had a committed pitcher. But he also knew that his teammates had what it took to win.
"I thought it was going to be a good battle. We had two really good pitchers but we were facing a Purdue commit so he was really good. I had a lot of confidence in Jayson Shorb pitching and they both battled and we just came up with the big win," Liggett said.
He said throughout the day and during the game, the team was high energy.
"We were hyped all game, all day. During all seven innings our bench was loud, everyone wanted to be there and everyone just wanted to play and have fun," Liggett said.
Senior Anthony Valenti was on first base when the home run was hit. He said they tried to just not get too nervous before the game and stay focused.
"We wanted to be excited but we didn't want to get too excited or get too nervous and mess up," Valenti said.
He said continuing with districts he is confident in his teammates to do well.
"[Moving forward] I'm pretty confident. We beat [Chaminade] once already this season so we should be good going forward. We just have to hit well and pitch well," Valenti said.
As he was on base, he said he just kept hoping that Liggett would hit the ball and it wouldn't be the last out of the inning.
"I honestly was just saying over and over 'please don't make the last out' and then he hit the ball as soon as I had said that," Valenti said.
Head coach Jason Schneider said going into the game he had confidence in the players.
"I knew that a big part of that game was going to come down to the pitching on both sides. It usually does but I knew they had a guy who is very good and had won a lot of their big games this year. I knew that we weren't going to probably score a lot of runs against the guy. We put senior [Jayson] Shorb out there and he did a phenomenal job and he did exactly what we needed [him to do]. He gave up two hits [and] one run. I just kept thinking 'we just have to find a way to get a guy on base' and somebodys going to be the guy that steps up and is the hero per say," Schneider said.
He said moving forward the team
"I feel good, I'm confident in these guys and I think that they have went through their ups and downs throughout the season. Yesterday [May 17] I think coach [Paul] Arway said it best after the game 'it's an incredible moment that will be remembered for the rest of our lives especially Zach [Liggett] and the rest of the team. But that has to be a chapter in the book, that can't be the book it just needs to be a chapter in it and today [May 18] is a new day and this is just another game and its another opportunity to put a chapter in the book that these guys will take with them forever," Schneider said.