Silvers Stars repeat Class 4A title
For the first time in school history, the Silver Stars Dance team became back to back State champions after placing first in both precision jazz and pom categories. 
This year's competition took place on Feb. 26 at the Family Arena in St. Charles. In order to win overall and defend their title as State champs, the dance team had to receive the highest additive score in their division. Ultimately, they won in both precision jazz and pom dance categories, making them the overall winners of the competition. To make it to this point, the team spent a majority of their season prepping and perfecting their routines for state. Dance coach Erin Taylor said that practices began in Oct. up until the day of the competition with each practice lasting anywhere from one to three hours.
"We spend our entire season prepping for State, it is the culmination of our entire year and we take every competition and practice into account working toward these performances. Practices are generally one and a half to two  hours a piece and sometimes we do extra practices on the weekend or in the evenings that are three hours," Taylor said. "We started working on our competition routines that we took to state in Oct. and our final practices were spent working on our stamina, and cleaning the parts of the dances that would have the biggest impact on our performances. Perfection is not possible in dance so we worked to find ways to set ourselves up to have our best performances."
Although the entire team is considered reigning champs, less than half of the girls on the team competed in State last year. With only five returning dancers, Taylor said that the team had to work hard in order to meet the level at which they had previously performed, with the seniors rising to the occasion in leading their new teammates.
"This team worked incredibly hard to set ourselves up to get to this point. There were only five returners out of 17 dancers so there were lots of new girls who were not as experienced in varsity level dance team work. Our seniors led the team with positivity and we grew steadily over the year and I am incredibly proud of this team for achieving this great honor," Taylor said.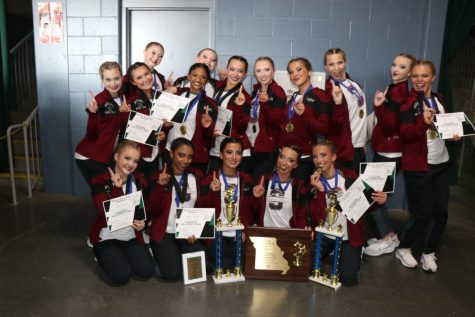 Since COVID restrictions are now being lifted, the championship was able to take place in person as opposed to the virtual competition that took place in 2021. Being in person introduced a level of stress according to senior and co-captain Kenna Kiser, who said that the switch from being online to being live was a nerve wracking experience.
"Being in person for state caused a lot more stress compared to last year. This year, in addition to everything else, we had to prepare for how our performances were going to look with a live audience. We would be performing in a large arena and hoped that our voices would be able to fill all the space," Kiser said. "It was very intimidating and I was nervous that the team was going to crack under pressure. Luckily, we practiced for the moment and were more prepared than ever. Because of our preparation and the bond that we grew, we were able to end the season successfully."
With this being many of the new member's first experience at state the win was made all the more exciting. Freshman Allie Cross said that her expectations for her next few years on the team have been raised and that she is thrilled to continue her high school dance career with the team.
"Winning state as a freshman was super exciting and it being my first year on the team made it so surreal. It sets the bar high for my next three years on the team and goes to show how strong of a team we are. I'm looking forward to many things in the upcoming year such as meeting all the new members and bonding more with my current teammates," Cross said. 
In all, the victory was exhilarating for everyone involved. Several of the dancers are seniors who will be graduating with not one but two state championships in their back pocket. Kiser commends the dedication of her teammates and said that she will always remember this one of a kind experience.
"It is still so surreal that some of the girls are back to back state champs. It just didn't feel real when we won; I was shaking from excitement because this was extremely deserved. This team has gone through many early mornings, difficult practices, and complications towards the end of the season due to weather and injuries but all of our hard work was worth it," Kiser said. "I have dedicated so much time to this team and I am extremely proud that my teammates reciprocated the same commitment. We truly gave out all and put everything we had out onto the floor. We have grown so much this season and being proud of this team is an understatement. Being back to back state champions is something that none of us will forget and my final moments with this team could not have been any better."