Fox 2 News broadcasted a pep rally before school on Sep. 1, showcasing the school's spirit across the St. Louis area.
The rally was arranged by activities director Mitch Lefkowitz and StuCo after Fox reached out for their morning Pep Zone segment, as the football game this evening is the Prep Zone game of the week. Lefkowtiz said organizing the event required lots of communication between the station and the performers at the school.
 "It really starts with Fox 2. They reach out to us and say 'hey, would you be willing to do this morning pep rally?' because they selected the Summit [vs] Marquette game as the Prep Zone Game of the Week. So from there, it's just working logistically with their producers and their on air talent, Ty Hawkins, to get an idea of what they want us to do from a performance standpoint and a game standpoint. Then typically, I'll reach out to the cheerleading coaches, the dance coaches, the band directors, and all that to help coordinate their groups and to work around what the producers want from us," Lefkowtiz said.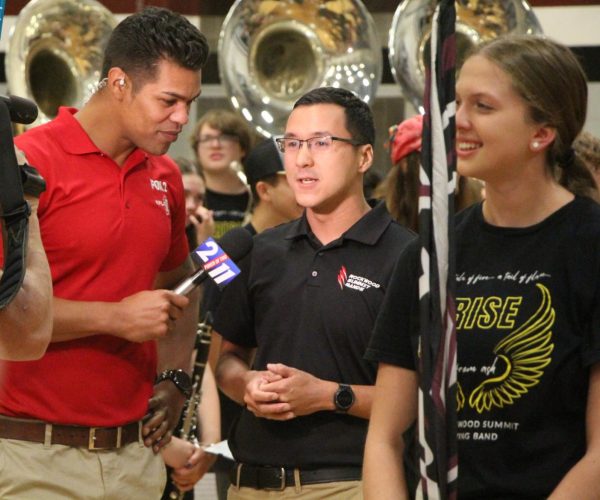 Performances by the cheer team, Silver Stars dance team, and Silver Falcon marching band started in the upper gym around 6:30 AM, with a student section roaring as the camera made its rounds. Although the rally was early, Lefkowitz said that the students are always willing to show off their school spirit. 
"It's hard to get kids there this early, but we've done this before. I think the last time was 2018, and everytime we ask our Summit falcons to step up, they do a great job." 
Reporter Ty Hawkins said that the station came to show off the school spirit as well as the football game
"We want to be here not only highlighting the big football game that's going to be here against Marquette but also the spirit that's here at Rockwood Summit High School. We've got the pep band, we've got the color guard, the cheerleaders. It's a great environment and we want to highlight that."
Outside of the performers, students were able to participate in games, including Hungry Hungry Hippos and a three legged race. Junior Willow Powell, StuCo vice president, said that the Student Council helped organize them. 
"We had a big hand in choosing games for the segments on TV and finding the people [to participate], planning the smaller parts of it, and talking with Lefkowtiz and Fox 2," Powell said.