Track takes district titles
Boys, girls take 1st at District 2 Championship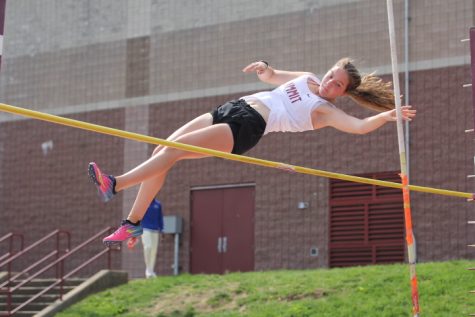 Both the girls and boys track teams placed first at the Class 4 District 2 championship on May 14.
Girls coach Erin Hopkins said that she is very proud of the team, as they have qualified in almost every event.
"I am very pleased, proud and excited about the results from Saturday. This is the first District Championship for the girls team in approximately ten years. We don't have any major improvements to do, we just need to stay focused, healthy and relaxed," Hopkins said. "We qualified all of our relays and we continue to get faster each meet. All of our athletes did well- it was a full team effort. We qualified in 18 of 19 events, had 27 qualifiers to Sectionals, 7 open events with two qualifiers, and all 4 relays."
Sophomore Sam Vu, who placed first in the 100M and 4x200M relay, and placed second in the 4x100M relay, said that his favorite race is the 4x100M because it isn't as individual as a typical track event.
"My favorite event is probably the 4x100M because I like the team aspect and finishing the race with my teammates depending on me to win," Vu said. "I wish we would've won the 4×100 but I couldn't quite edge out Cardinal Ritter's anchor."
Senior Drew Krobath ran the 400M, the 4x400M relay and threw Javelin, placing first in all three events. Krobath said that this win was possible by preparing for Districts the same as they have done all season.
"We prepared for this meet by doing what we do every week: training hard earlier in the week and doing recovery/lighter stuff at the end. The sprinters took ice baths on Wednesday and it was funny to watch my teammates get in," Krobath said.
Junior Ally Roberts, who placed second in the pole vault and third in the high jump, said seeing herself improve throughout the season has been satisfying.
"This is my first year pole vaulting and so far it's been really fun. Districts was really exciting because I PR'd by a foot which usually doesn't happen, so it's really exciting to see all the improvement," Roberts said. "The team did really well at Districts. The past years we have always been getting second so it's really exciting to get first and win districts. The whole team was so excited. We were yelling for the boys and the girls team. It was really fun."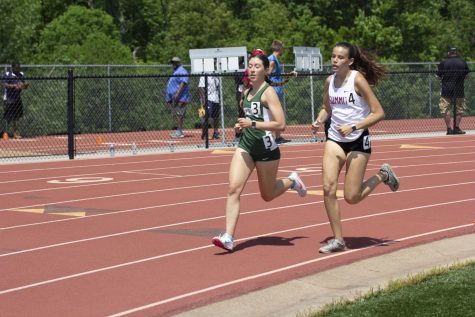 Going back to the boys events, senior Rhett Emmenegger placed first in the 4x200M and 4x400M, second in the 4×100, and second in the prelims but fifth overall in the 100M. Emmenegger said that this meet went particularly well for him as in addition to achieving personal records in his races, he also broke a school record.
" My favorite event at this meet was the 4×200 because we weren't ranked to win in this race, yet we were so determined to send a message and prove ourselves that we ran our fastest time. Our 4×100 did particularly well and actually broke the school record in the 4×100 with a time of 43.68 seconds," Emmenegger said. "I think everything went really well and we ended up getting a PR in every race that I participated in."
Although there was more competition at the meet, senior Lexi Miller said it helped her focus on the events she was participating in.
"I competed in javelin and discus. In Javelin I placed first with a throw of 37.15m and in discus I got second with a throw of 31.53m. Discus went well for me, there was a lot more competition for it, making it harder to place in the top four. But I like to be in a more difficult situation [because] it makes me focus more," Miller said.
Emmenegger said that training for Districts was tough, but it's something they've been working towards all season.
"We prepared for this meet by going through very difficult workouts to get us in peak shape and then are starting to focus on minor details that could help us get slightly better and could result in us getting to state," Emenegger said. "We will continue to practice every day no matter the weather or circumstances we face and will just give it our all and that's all we can do."
The hardest event for Krobath at this meet was the open 400M as his time was not as good as usual.
"The 400M could've gone better time wise for me because I ran one of my slower ones of the year," Krobath said. "The hardest event is easily the open 400M because it's so physically demanding and takes everything out of you. also the pain after you finish in your legs is unlike any other."
Both Krobath and Emmenegger said that running on the home track was possibly helpful to their performance, but according to Krobath, the track didn't affect the team much as it is basically the same no matter what school you're at.
"I think it helped running at our own track just because it was the same feel that we get and it's what we practice on, but at the end of the day a track is 400 meters around and the same everywhere," Krobath said.
The 4x400M is Emmenegger's favorite race because the team is able to stand at the corner of the track and cheer the runners on, pushing them to run as fast as possible.
"My favorite race to participate in is the 4×400 because it is the final race to conclude the meet and it's the only race where the entire team meets at the last stretch of the track to help cheer you on and push you to run harder," Emmenegger said.
Although the athletes liked running on the home track, it brought extra work and hardships for the coaches, Hopkins said.
"It was difficult having the meet at home as coaches had to prepare for the meet and host which meant added work for coaches and the Athletic Department while also attempting to qualify for Sectionals," Hopkins said.