Theater performs Little Prince
One act places audience on stage
The fall play, "The Little Prince," was presented by the Falcon Players on Oct. 6-8. The Little Prince is based on a children's book written in the 1940s during World War Two. The purpose of the book was to teach children valuable lessons, like don't chase after fortunes and look after the planet. The Falcon Players presented this story as a one-act play. On top of that, the audience seats were on the stage with the actors. It was cool to be immersed in the story and being so close to the actors definitely kept the audience engaged. It gave the audience an up-close experience to witness the actors' emotions as the story played out.
Sitting on the stage is something that hasn't been experienced since 2019 and before the pandemic. That said, the cast and crew were mostly freshmen and sophomores. They put the play together in one month.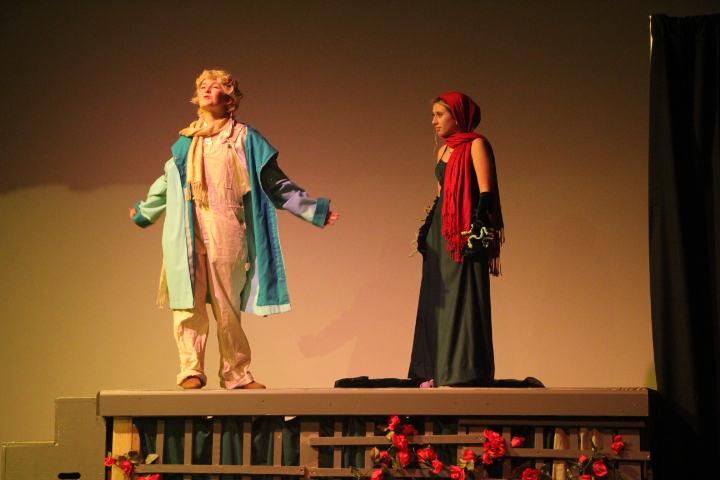 At the beginning of the play, it was a bit hard to hear the actors' voices over the sound effects that were being played. It was also really confusing. The main character was Aviator (sophomore Tres Rivera). Rivera introduces the Little Prince (sophomore Finnley Free). First, Free introduces Rose (freshman Paisley Valenti). Valenti did a really good job impersonating a flower and making a nontalking object come to life. The King (freshman Charlotte Talleur) was hilarious and played the part perfectly. She was constantly making the audience laugh with her smart-alec responses. Talleur also played Fox, who was skittish and witty. The Business Man (freshman ShaniyHa Mughal) paid no attention to the Little Prince and just focused on the number of stars he owned. Mughal expressed just the right amount of greediness and self-entitlement to perform this role. The Lamplighter (freshman Piper Covert), has spent his whole life following orders. Covert plays this role humbly which makes this character come to life. The Geographer (freshman Gabi Standlee). Standlee gave off hilarious, smarty-pants energy, which fit this part perfectly.
The Little Prince is a remarkable character that brings out the qualities of each individual. The story was confusing without having background knowledge about the book. It was really hard to follow at first, but Free was a great storyteller as the Little Prince. Free led us through the story gracefully, even without knowing the background of the story. My favorite character was definitely the king. Talleur definitely put a lot of effort into this part because she was so confident and natural. The freshman and sophomore crew put in so much effort and you could tell, which made the play super special. It was a very unique story, but the Falcon Players presented it smoothly.