District Hires New Superintendent
Dr. Curtis Cain to Rockwood from Wentzville District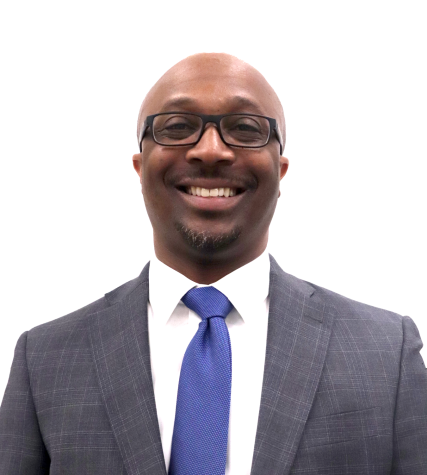 The Board of Education (BOE) issued an announcement on Jan. 27 introducing Dr. Curtis Cain as the district's new superintendent beginning July 1.
A national search for the superintendent spot began in September and was conducted by School Exec Connect (SEC), a consultant firm in Oak Park, Illinois, which was selected by the BOE. Applicants applied through SEC, and in January, candidates that made it through a screening process got a BOE interview. From there, the BOE narrowed it down to two candidates and made the final decision through another interview process.
Principal Dr. Emily McCown, who was a part of the screening process, said her favorite aspect of Cain's mindset is his focus on the time students spend in the classroom.
"One of the things that I really like that he said was the emphasis of what occurs in our classrooms and how we need to focus on that relationship and community that we build in the classrooms, and that's where a lot of our work can be accomplished," McCown said. "I just really appreciated that he recognized that aspect of the whole district to really focus in on that classroom experience. I thought that he showed his support of what the kids really go through every day."
Cain will replace Dr. Timothy Ricker, who has been serving as interim superintendent since July after the retirement of former superintendent Dr. Mark Miles. Currently, Cain is the superintendent of the Wentzville School District, where he has worked since 2013. In 2016, he was named the MASA New Superintendent of the Year for the St. Louis area. Cain said that having the perspective as a father expands his perspective as a superintendent.
"It's hard to believe next year will be my 10th year serving as a superintendent. I think curriculum is a never-ending process. It's a never-ending cycle," Cain said. "In terms of feeling current practices and thinking about what's in the best interest of the students, I will tell you that it is a humbling happening. [My wife and I] will have a fifth grade student in the district. [Seeing] curricular experiences in their eyes broadens my horizon as a parent [and], ultimately, as a superintendent."
Cain is a nationally certified superintendent, as he was named the 2022 Missouri Association of School Administrators (MASA) Superintendent of the Year and he is currently one of four finalists for the National Superintendent of the Year. President of the Board of Education Jaime Bayes said Cain's attributes as a strong leader will guide Rockwood into a bright future.
"He is a visionary leader known throughout the St. Louis area, the state, and the nation and is widely recognized as a top superintendent. He is a positive and energetic person who brings a great depth of experience leading a large district," Bayes said. "We are excited for Dr. Cain to begin his time in Rockwood by getting to know the various communities and stakeholders throughout this large district. There is so much to celebrate in Rockwood and we are excited to show him around. We have full confidence that he will use his vast experience and visionary leadership to continue to move Rockwood forward."
Wentzville is the ninth largest school district in Missouri with 22 schools, four high schools, almost 17,400 students, and nearly 2,700 employees. In comparison, Rockwood is the third largest school district in Missouri with 22,268 students, 3,533 employees, 29 schools, and four high schools. With the movement to a larger district, Cain said his main priority will be focusing in on the needs of the students and staff.
"We're going to be focused on the holistic needs of students. And looking at [Rockwood's] current strategic plan, [we want to] embed [and focus on] some of those socio-emotional needs, mental health, and trauma needs as well," Cain said. "I think we need to be an active listener not only to our prospective student perspective, [but it's] going to be important to listen in on the staff as well. Not just teaching staff, not just the administrators, [but] our support staff that [also needs] to be listened to because you simply need these employees every single day."