Orchestra celebrates holiday season
Program hosts festive dinner concert, raffle to raise money
On Dec. 8, the school's Orchestra held its second performance, which included a dinner, concert, and auction to raise money for the program.
Senior Mira Iyer, who plays the violin, said their first event was more of a stricter concert.
"We had a fall concert earlier this year. It was a graded performance," Iyer said.
Orchestra teacher John Mazar said he selected an assortment of festive songs for the concert.
"We are doing a 'Charlie Brown Christmas,' 'You're a mean one Mr. Grinch,' 'Feliz Navidad,' 'Wizards in Winter,' 'Greensleeves,' and 'Suite' from The Polar Express," Mazar said.
One of the symphonic orchestra members, G Schmiedeke, said their favorite song from their performance was 'Charlie Brown.'
"I really liked Charlie Brown. Charlie Brown was so fun to play. Partly because the music was written wrong, and so it was kind of like a listening exercise. That was one of the two songs that only symphonic played. It was a listening exercise because everything was written in a way that it doesn't sound, so we had to rewrite the music as we were learning it. It was really fun to do and it made everyone listen to each other," Schmiedeke said.
The audience, Iyer said, was able to dine as well as help fund the school's orchestra.
"The audience gets to have a meal and sit down. We have different raffles and baskets for them to put money into. The money goes to the orchestra, and it helps us fundraise for trips, and the t-shirts that we have," Iyer said.
They started this orchestra performance around the year 2005. Iyer said she can recall memories of it from elementary school.
"They have been doing this ever since I was in middle school, I think even in elementary school," Iyer said.
Mazar said has chosen to continue the tradition of the holiday dinner concert.
"We started three directors ago actually, Mr. Patton, I think," Mazar said.
The preparation for this concert, Iyer said, is more relaxed than their normal concerts because they get to work with easier and more familiar music.
"It takes less time because the repertoire is a little easier, so it was more of a break because of the fun music," Iyer said.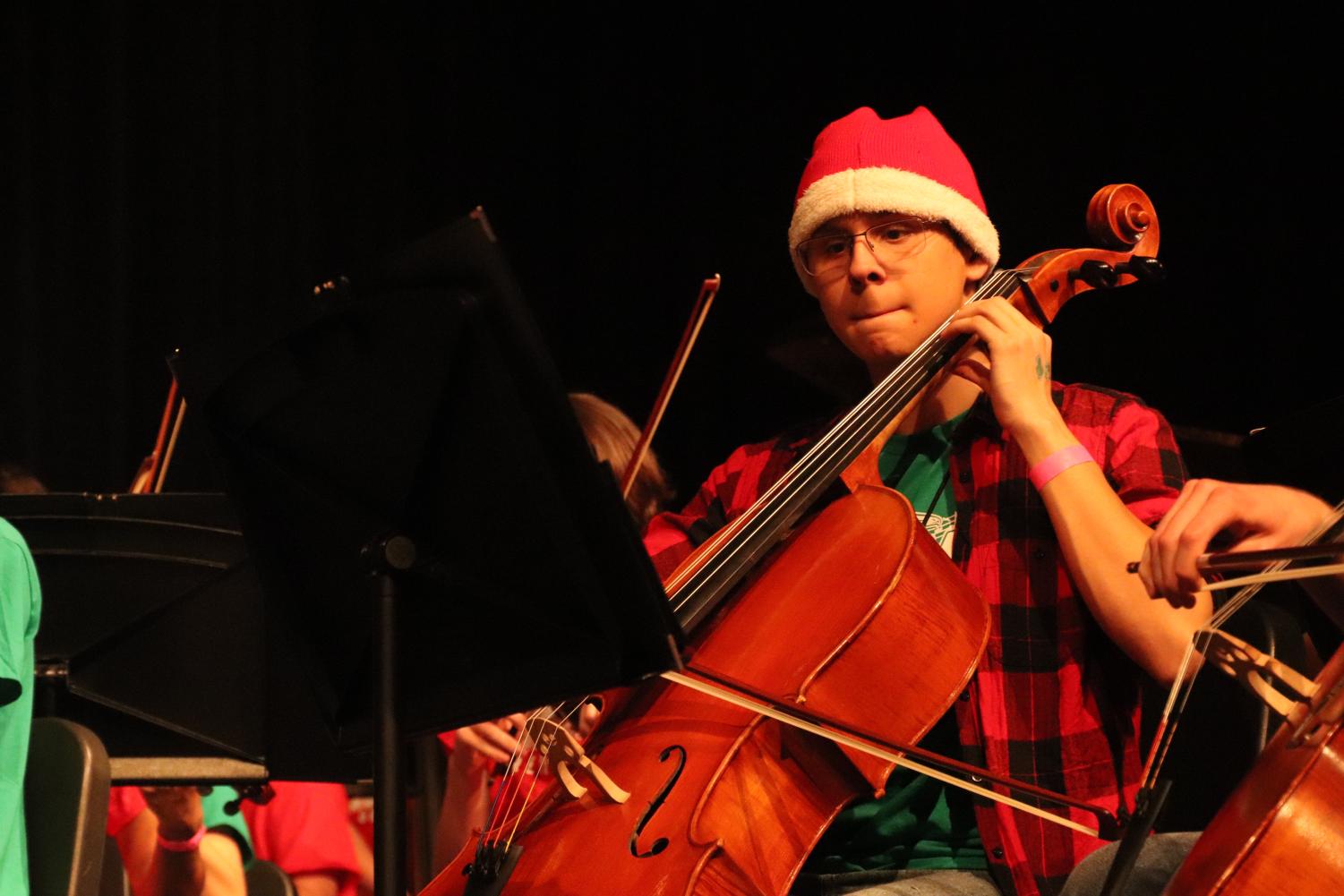 Mazar said that the concert requires more planning and deliberation due to its nature.
"There's a lot more logistical stuff, you know. For dinner and putting stuff together. Then, we usually combine, kind of like a supergroup, because we have two different orchestras, and for this one, we combined to play all of the music," Mazar said.
Mazar said the concert begins after the dinner, where guests have the opportunity to purchase tickets to enter raffles for whatever basket they would like to win.
"Doors open at 5:45 p.m. and then people check-in, and get wristbands. Then, dinner is from 6 p.m. to 7 p.m. in the commons, and there is a basket raffle. So they can also put tickets into a basket for raffles. Then, we pull the winners of each of them on stage, and then at 7 p.m., the concert starts, and in between pieces we do the raffle basket and that kind of stuff," Mazar said.
This performance brings out a large crowd and Mazar said it has successfully raised money in the past.
"About 200 people have bought tickets, [and] usually we make between two to three thousand dollars. That goes to our Nashville trip, our trip that we go to every year. We do a competition there and stuff like that," Mazar said.
As they reflect on their performance, Schmiedke said they are extremely proud of their performance.
It was a really good concert, it was one of the best concerts that I have gotten to be a part of here, and we have had some really cool experiences, but this is probably our best dinner concert to date," Schmiedeke said.
Schmiedke said the orchestra had a lot of things they did well.
"We had a lot of really good moments actually. [First of all,] the viola part in Chestnuts, I thought it was going to make me sob. It was really good. We [also] had some where the orchestra stood shifts in the first violins, Mazar, our orchestra teacher did not rush on the drum set, he did really well, and he is not a drummer. It was a lot of fun," Schmiedke said.
Schmiedke said Mazar made a deal that he would do a toe touch if they raised a certain amount of money.
"We made a deal with Mazar [that] if we raised 300 dollars, he would have to do a toe touch. That was our whole advertising and yeah it was really great. He even practiced before to see what jeans would be best to do a toe touch in," Schmiedke said.
Finally, Schmiedke said they had their own highlights from the performance.
"I got to play suspended symbol, so that was obviously a highlight. I did a solo in 'Greensleeves.' It was just violin for 25 bars. It was kind of stressful but it was also really fun. I had another one in the Christmas Song but it was super small," Schmiedke said.